Updated March 9, 2013:
Many of you are familiar with Dr. James L. Doti through his work as the president of Chapman University, but did you know he's also the author of two children's books?
It's true!
Both books are illustrated by talented artist
Lisa Mertins
, whom you may know through her delicate, whimsical ceramics.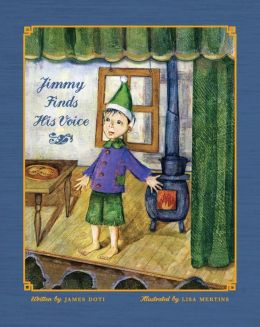 Jimmy Finds His Voice, written by Dr. James L. Doti, illustrated by Lisa Mertins
We're excited to invite you to a very special reception for Dr. Doti and Lisa to mark the release of their second book,
Jimmy Finds His Voice
. Please join us on Thursday,
March 14th from 6 - 9pm
to meet both the author and illustrator, purchase original artwork and books, and sample Nonna's wonderful meat pie and biscotti recipies that are so dear to Dr. Doti's heart. A portion of all sales will benefit the
Communication Sciences and Disorders
program within the College of Educational Studies at Chapman University.
As the only major book signing for this dynamic duo, this promises to be an extra-special event! We will be joined by 30 graduate students from the Communication Sciences and Disorders program who will serve up their own delicious, award-winning chili. Be sure to sample the yummy mini cupcakes and treats provided by Celebrate Now!
Jimmy Finds His Voice
is a true story about little Jimmy's speech impediment and his journey to overcome his fears to become an inspiration to his peers.
Lisa's adorable mixed media illustrations are a perfect complement to the narrative. Her vivid colors are arresting and convey the mood and tone of Dr. Doti's works seamlessly.
book signing and reception with Dr. James L. Doti and Lisa Mertins
Remarks at 7:15
Benefiting the Communication Sciences and Disorders program at Chapman University